Yurts for Sale in North Carolina
A yurt is an ancient form of a portable shelter. It originally appeared thousands of years ago in Central Asia and was mainly used by nomadic people of the region. Today, yurts are still in use as personal and commercial properties. People often choose yurts as their homes because they provide them with financial freedom, while businesses choose yurts as cost-effective and unique rental accommodations, restaurants, warehouses, retail properties, etc. In general, a yurt is considered an attractive alternative sustainable living shelter.
Building a Yurt in North Carolina
There are certain requirements that apply for the erection of yurts in North Carolina. For example, if a yurt has an occupant load of 50 or more, the construction must have a detailed site and floor plans. The site plan must show 20 feet wide fire lane and 20 feet from other structures, parked vehicles, building lines, internal combustion engines, etc.
A floor plan must show a layout of the platform, equipment, tables, and chairs. It must also include locations of exits, portable fire extinguishers, occupant load sign, and no smoking sign. The site and floor plans must also indicate of a yurt will or will not have sides or flaps.
It is also important to note that smoking is not allowed inside a yurt. Open flame or devices emitting flame, as well as gad, fuel, or any unapproved equipment, are not allowed inside or within 20 feet of a yurt while occupied by people.
The plans must be submitted to State Construction Office 30 days prior to the event, so the vendor will have enough time to respond to any resulting questions, and/or so the staff will also have time to better assess the plans.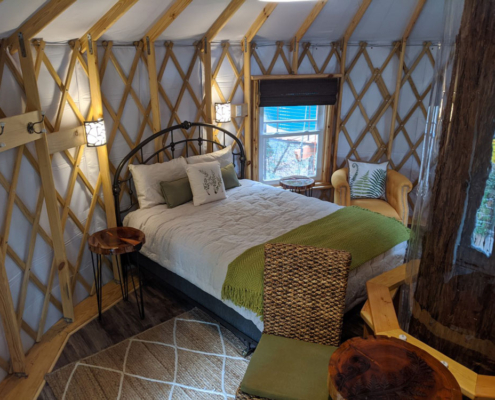 Get Yurts for Your Campground
If you own a campground in the state of North Carolina, getting and installing yurts for your renters is a great idea.  They have numerous benefits over other types of accommodation. Yurts are affordable, energy-efficient, customizable, and durable. Moreover, they are perfect for those who want to be closer to nature.
If you are currently looking for yurts to purchase, you should contact Yurts of America. We have been selling luxury and high-quality yurts for over 30 years. All elements of our yurts are made by hand to provide convenience and reliability. Our yurts are a great example of the perfect combination of classic elements with modern materials, which is the basis of an ideal outdoor experience. If you have any questions, feel free to contact Yurts of America at (317) 377-9878.